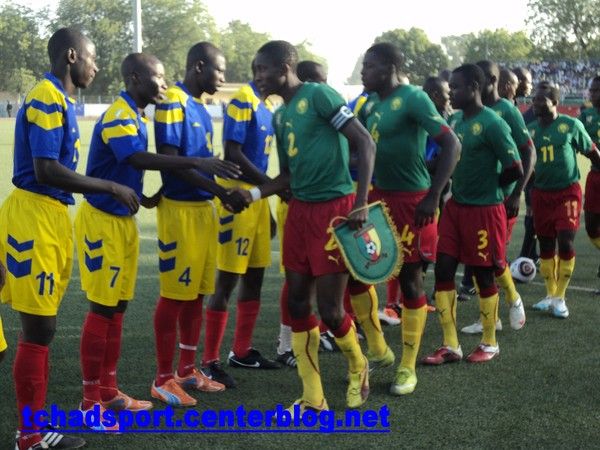 Chad Vs Cameroon
The start of the tournament of the Union of Football Federations of Central Africa (UNIFFAC) called "challenge Hayatou" was given last December 4, 2011, by the Minister of Youth and Sports Mbaidoum Simeon, in presence of Mr. Mohamed Iya, Chairman of the UNIFFAC and FECAFOOT, Vice-Presidents of the FTFA MM Mahamoud Moctar and Brahim Laoun, and many Chadian and foreign personalities.
Four countries are taking part: Chad, host country, Cameroon, CAR and Gabon. By cons, DRC, Congo, Equatorial Guinea and Sao Tome have not confirmed their participation.
In the opening match, ODS were beaten by the Cubs of Cameroon, 0-2. However, the first part resulted in a goalless draw (0-0) was largely dominated by the Chadians who have had many opportunities but were not effective. Cameroonians were still disorganized got two great deeds of which grazed the crossbar in the 37 th minute.
The second round will be mainly in Cameroon. The changes made ​​by the Cameroonian coach, Richard Towa will be decisive. Galvanized his foals will release their claws. Thus, Emmanuel Kunde Junior, very fit will succeed in opening the scoring in the 57 th minute. The Cameroonian community applauded his team came numerous rises and sings the national anthem of their country, while the Chadian disappointed supporters lose their voice.
ODS wake up shyly but do not worry the Cubs decided to take revenge. As in the previous edition was won by the RCA, they were taken out by young ODS. Time passes and the SAO show their limits. To everyone's surprise, Tonda Malong will definitely bend the match, scoring the second goal in Cameroon (91 e ).
Very disappointed, supporters Chad will throw stones at the young lions at the entrance to the locker room. It took the intervention of law enforcement for the party is not wasted.
The tournament continues on Monday, December 5, 2011, starring, Gabon, CAR.